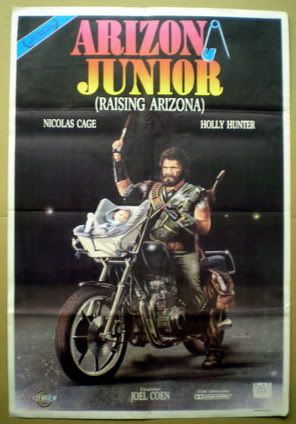 A simple diaper run becomes one of the greatest chases ever put on the silver screen in the Coen brothers' classic comedy 'Raisng Arizona'.  Hi, played to perfection by a unpredictable Nic Cage, is a felon who's very familiar with prison life.  A repeat offender who not only marries the cop (the bat shit crazy Holly Hunter) who took his mug shot, he also kidnaps an infant from a wealthy family in the hopes of one day raising a family.  After stopping at a local corner store for some Huggies, Hi falls into old habits when he tries to get the diapers for free using the classic gun/panty hose combo. This, of course, is where things go south.  From here, we are strung along like a rag-doll by the brilliant camera work of then-cinematographer, Barry Sonnenfeld and the solid action directing from the Coen brothers.  Layers of action and comedy peel away with a perfect effortlessness that even most pure action films can never hope to achieve. As chaotic as it gets, the audience will never get lost in the action, and believe me, it gets chaotic. A remarkable kitchen sink of a chase scene, Hi's run is for the ages.  It's pure madcap bliss.  Enjoy.
July 4, 2011 No Comments
TRUE GRIT is a stylistic romp through the wild, wild west – and the western genre itself.
Forget all the hype that's filling our theaters now – IMAX this and 3D that – and feast your eyes on a good ol' fashioned yarn, courtesy of the brothers Coen. Ethan and Joel's 2010 retelling of Henry Hathaway's 1969 film returns to the source material – the novel by Charles Portis – to achieve what is essentially an upgrade in all facets of production and storytelling over the old John Wayne flick. The tale of a precocious 14 year old (played by newcomer Hailee Steinfeld) who hires a drunken, dirty, over-the-hill marshal named Rooster Cogburn (Jeff Bridges) to avenge the murder of her father is an oftentimes funny, always fun exercise in storytelling, full of enthralling detail and the brilliant dialogues you come to expect from the Coens. Matt Damon is perfectly cast as a Texas ranger who gets under Rooster's skin, and the rest of the cast – including Josh Brolin and Barry Pepper – are incredible as well. The Coens paint vivid archetypes, each a fleshed out portrait of the characters we expect to find in the genre – except crazier, dirtier, and meaner than ever, and the narrative's random bursts of violence and overall sense of dread is perfect build up towards the exciting action climax. On the Coen spectrum the movie falls somewhere between Miller's Crossing and O Brother Where Art Thou?,  tarnished only slightly by their recently-adopted penchant for "down" endings, a staple of every film since No Country for Old Men. While it sometimes works, here the final narrative bridge – which I won't spoil for you except to say it is aggressively unsentimental – seems forced, existing simply to burst the bubble they've spent hours crafting. However, given its placement at the tail end of such a fantastic film, I'm willing to give the brothers the benefit of the doubt – and say it is there to "make us think." Regardless, True Grit is an instant classic, and you should run out this very instant and see it in theaters – in glorious 2D!
January 13, 2011 No Comments
90.) The Black Stallion (1979) – Carmine Coppola
Audio clip: Adobe Flash Player (version 9 or above) is required to play this audio clip. Download the latest version here. You also need to have JavaScript enabled in your browser.
and track 10 from disc 2, "Training II":
Audio clip: Adobe Flash Player (version 9 or above) is required to play this audio clip. Download the latest version here. You also need to have JavaScript enabled in your browser.
and track 7 off of disc 3, "The Legend":
Audio clip: Adobe Flash Player (version 9 or above) is required to play this audio clip. Download the latest version here. You also need to have JavaScript enabled in your browser.
Audio clip: Adobe Flash Player (version 9 or above) is required to play this audio clip. Download the latest version here. You also need to have JavaScript enabled in your browser.
88.) Star Wars V – The Empire Strikes Back (1980) - John Williams
We got Hoth. Leia and Han Solo bickering. AT-AT Walkers. Tauntaun guts and true friendship. The Wampa ice monster and Luke's Jedi magic. Chewbacca. Dagobah. The ghost of Obi Wan. Luke training with Sesame Street reject Yoda. R2-D2 and C-3P0 captured. Darth Vader. The Emperor. Colt 45 pitchman Lando Calrissian in his sky kingdom. Betrayal. Solo in carbonite. Boba Fett. The Dark Side rising. Oedipal revelations. An epic sword fight followed by our hero's symbolic castration. Now that's what you call a kid's movie! In the capable hands of the "original trilogy" (by which I mean Irvin Kershner, Leigh Brackett and Lawrence Kasdan) this second installment in George Lucas's Star Wars films is the single greatest action/sci-fi/adventure achievement of all time, the benchmark for all to follow. Even Williams' "borrowed" score (check out Erich Von Korngold's target="_blank">"Kings Row" if you don't believe me) manages to breathe new life into old sensations: of high adventure, archetypal quests, and the wonders of cinema. Here's the "Imperial March," hard-coded into every adult male's DNA:
Audio clip: Adobe Flash Player (version 9 or above) is required to play this audio clip. Download the latest version here. You also need to have JavaScript enabled in your browser.
87.) Phantasm (1979) – Fred Myrow and Malcolm Seagrave
Don Coscarelli's low budget horror film spawned a franchise that had intermittent glimpses of genius hampered by cheap special effects and dramatically-challenged acting, but was fun nevertheless. The first installment tells the story of a recently orphaned boy who discovers a local mortician, "The Tall Man," is up to no good with the recently-deceased, and alongside his brother and an ice cream man sets out to investigate. This terrible decision sets off a chain of events involving flying spheres, robed midgets, and an inter-dimensional slave ring. The soundtrack is an electronic variant on Halloween (aren't they all?) but with its own DYI charm. Here's track 10, "Tall Man on Main Street":
Audio clip: Adobe Flash Player (version 9 or above) is required to play this audio clip. Download the latest version here. You also need to have JavaScript enabled in your browser.
and track 14, "Hearse Chase":
Audio clip: Adobe Flash Player (version 9 or above) is required to play this audio clip. Download the latest version here. You also need to have JavaScript enabled in your browser.
86.) Tess (1979) - Philippe Sarde
Audio clip: Adobe Flash Player (version 9 or above) is required to play this audio clip. Download the latest version here. You also need to have JavaScript enabled in your browser.
and track 8, "Tess Retrouve Angel":
Audio clip: Adobe Flash Player (version 9 or above) is required to play this audio clip. Download the latest version here. You also need to have JavaScript enabled in your browser.
85.) Sunset Boulevard (1950) - Franz Waxman
Billy Wilder's Sunset Boulevard is a major work of art whose presence can be felt in everything from the works of David Lynch to the Coen Brothers to that shit channel TMZ which funnels our attention through an IV into the veins of proto- and quasi- celebrities. The story of has-been silent-screen goddess and demented recluse Norma Desmond (Gloria Swanson) and the small-time writer (William Holden) who wanders into her world and becomes her errand boy and lover has never been surpassed for sheer audacity, in its willingness to strip the facade of glamor from Hollywood and expose the desperate and needy attention-hungry people who weave the stuff of dreams. Wilder's magnificent film is aided by legendary composer Franz Waxman's (Bride of Frankenstein, Rebecca, Rear Window, Gone with the Wind) magnificent score. Here is track 1, the "Sunset Boulevard Prelude":
Audio clip: Adobe Flash Player (version 9 or above) is required to play this audio clip. Download the latest version here. You also need to have JavaScript enabled in your browser.
and track 5, "An Aging Actress":
Audio clip: Adobe Flash Player (version 9 or above) is required to play this audio clip. Download the latest version here. You also need to have JavaScript enabled in your browser.
84.) Theater of Blood (1973) – Michael J. Lewis
Audio clip: Adobe Flash Player (version 9 or above) is required to play this audio clip. Download the latest version here. You also need to have JavaScript enabled in your browser.
and track 18, "Fugato":
Audio clip: Adobe Flash Player (version 9 or above) is required to play this audio clip. Download the latest version here. You also need to have JavaScript enabled in your browser.
83.) The Godfather (1972) – Nino Rota
Francis Ford Coppola's adaptation of Mario Puzo's novel is justifiably lauded by critics and fans everywhere as a masterpiece, the movie which ushered in the age of big budget, glossy mafia movies which glamorized the life of the men of the inner sanctum. The acting is top notch, with Al Pacino, Marlon Brando, James Caan and Robert Duvall delivering impeccable performances, Gordon Willis' cinematography is masterful, and Nino Rota's score is somber and ironic, mirroring the Corleone family's fading old world values in the face of their growing empire. Here's "I have but one heart (O Marenariello)":
Audio clip: Adobe Flash Player (version 9 or above) is required to play this audio clip. Download the latest version here. You also need to have JavaScript enabled in your browser.
and track 9, "Appollonia":
Audio clip: Adobe Flash Player (version 9 or above) is required to play this audio clip. Download the latest version here. You also need to have JavaScript enabled in your browser.
82.) Arizona Dream (1993) - Goran Bregović
Time of the Gypsies, Black Cat, White Cat and Underground director Emir Kusturica's brief foray into English-language films is a mixed affair, starring a fresh-off 21 Jump Street Johnny Depp as a drifter who travels to Arizona for an uncle's wedding and ends up in a love triangle with two strange women (Faye Dunaway and Lili Taylor) in this film that's too enamored with its own strangeness to be very good, but which is nevertheless full of interesting visuals, eccentric characters, fish imagery and accordion music and the fine performances of Vincent Gallo, Paulina Porizkova, Michael J. Pollard and Jerry Lewis. The music by Bregović is a delight, an amazing Gypsy punk soundtrack which prefigures the work of acts such as Balkan Beatbox and Gogol Bordello by at least a decade. Track 1, "In the Deathcar," features vocals by Iggy Pop.
Audio clip: Adobe Flash Player (version 9 or above) is required to play this audio clip. Download the latest version here. You also need to have JavaScript enabled in your browser.
and check out track 8, "Gypsy Reggae":
Audio clip: Adobe Flash Player (version 9 or above) is required to play this audio clip. Download the latest version here. You also need to have JavaScript enabled in your browser.
81.) L'Onorato Famiglia (1973) - Bruno Nicolai
Tonino Ricci's action-packed movie is firmly couched within the genre of 1970's Italian crime films but has a sobering message in its criticism of the rampant corruption in Italy, in which everything is controlled by the privileged few. Bruno Nicolai, longtime friend and associate of Ennio Morricone, provided the exciting score. Here's track 7, "Disperatamente":
Audio clip: Adobe Flash Player (version 9 or above) is required to play this audio clip. Download the latest version here. You also need to have JavaScript enabled in your browser.
and track 9, "Gin":
Audio clip: Adobe Flash Player (version 9 or above) is required to play this audio clip. Download the latest version here. You also need to have JavaScript enabled in your browser.
and track 13, "Un Solo Amore":
Audio clip: Adobe Flash Player (version 9 or above) is required to play this audio clip. Download the latest version here. You also need to have JavaScript enabled in your browser.
October 4, 2010 1 Comment